Edifier R1850DB Review - Crystal Clear 2.0 Bookshelf Audio
by Adam Dileva








Features:


Power Output: RMS 16Wx2 + 19Wx2 = 70watts
Signal to Noise Ratio: ?85dBA
Frequency Response: 60Hz-20KHz
Total Harmonic Distortion: 0.5%
Input Sensitivity: PC:700±50mV
Aux: 550±50mV
Tweeter: Φ19mm silk dome, 6ohm
Subwoofer: 4"Φ116mm 6ohm
Input Type: RCA/Aux; Optical/Coaxial; Bluetooth V4.0, Subwoofer output
Dimensions (Active Speaker): 154x254x224mm(w x h x d)
Net Weight: 6.63kg
MSRP: $199.99 USD / $249.99 CAN

When I bought my last TV, I simply thought that purchasing a soundbar to go with it would have been the best, and easiest, choice to fulfill my audio needs, as I didn't want a full 5.1/7.1 setup, nor did I have the room for it in my small apartment. Given that I don't have my own man-cave, I just assumed the soundbar would be sufficient. While yes, it does give me audio, but it's never been impressive, especially since I've gotten to review a few speakers over the years, with my last being a previous Edifier set, the S350DB, which you can read my impressions HERE.

My latest review has me testing out the Edifier R1850DB set, and I have been using them for a few weeks now. I absolutely enjoyed the S350DB's I got to test, so I was very excited to put these new ones to the test. Once again, Edifier has impressed with this new 2.0 set, making for a fantastic sound stage that I didn't expect out of two bookshelf speakers without a subwoofer. Yes, this set doesn't come with a sub, BUT, it allows the input connection to add any compatible subwoofer that you wish. Even without a sub attached, I was still incredibly happy with their performance across gaming, movies and music.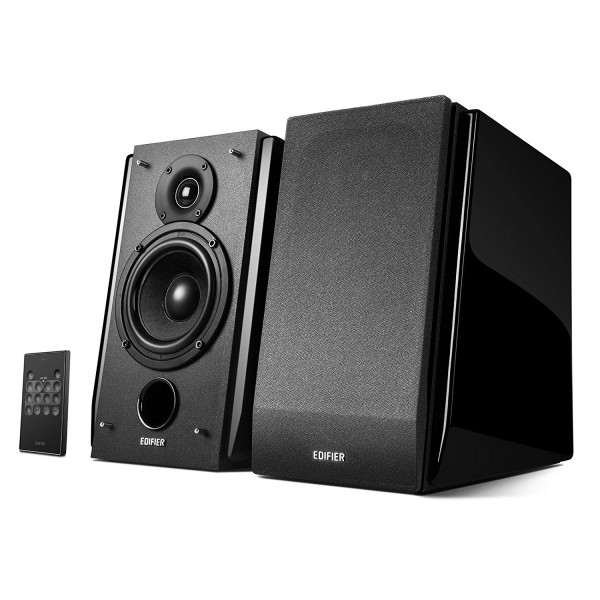 So what's included in the box? The passive and active speakers (of course), numerous connection cables such as a RCA to RCA (1.7m/5.6ft), RCA to AUX (1.7m/5.6ft), Connection Cable (5m/16ft), Optical Cable (1.5m/4.9ft), Wireless Remote, Microfiber Cloth and the User Manual. I opted to use my optical cable that I've already been using for my setup, but it's great that they've added the others depending on which input setup you may want to utilize.

The first thing you're going to notice about the speakers is how gorgeous they look. Aesthetically, they are extremely pleasing to the eye and should easily fit into any setup naturally. The build quality feels very solid, as I wasn't nervous to pick it up and move it around until I found the perfect home for them after a few attempts. The MDF wood ensures it doesn't look cheap, and it's topped off with a piano black gloss finish. While I love the gloss finish, be warned that it does cause it to be a fingerprint magnet because of this. Luckily, Edifier has also included a microfiber cloth to remedy this, though once the speakers are in your ideal placement, you probably won't be touching them much anyways.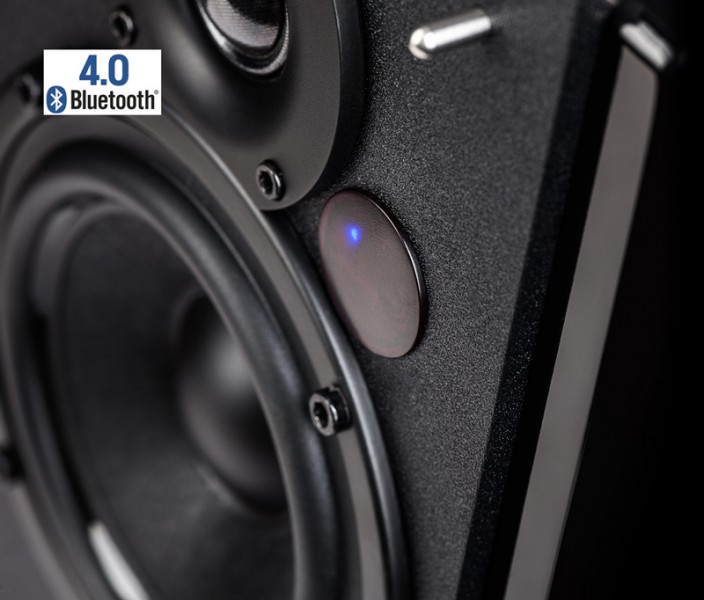 What bothered me about the previous S350DB set was that the speakers themselves had no grill covers, so the tweeters were exposed at all times. It seems they have listened to feedback, as the R1850DB has grill covers included. It's also super simple to take the grills off if you do prefer to see the drivers themselves, though I opted to keep them on to help hide them in plain sight. While I didn't notice it at first, the speakers themselves are also designed at a 10-degree angle, and this isn't simply for aesthetic purposes, but instead to direct the sound at a purposeful angle to help its sound stage presence.

While both speakers looks exactly the same, the rear of the right speaker is the one that houses all of the inputs and dials for manual controls (if you don't want to use the remote for some reason). The front of the right speaker also is where the IR sensor is located, so keep in mind this is where you'll need to point the remote at.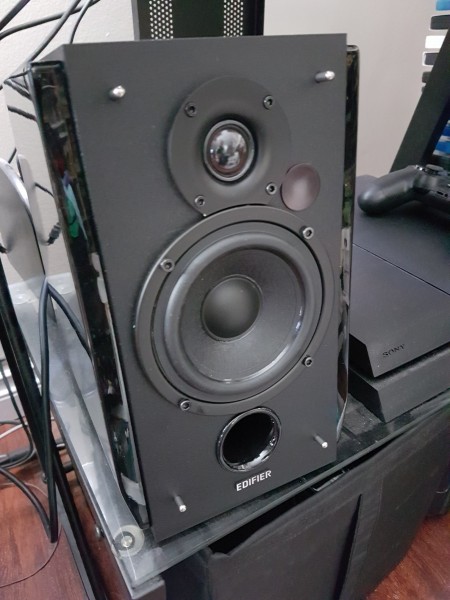 There are three knobs on the rear, one for treble, one for bass and one for volume/input select. This is how you'll set each individual setting based on your preferences. The back is also where you're going to find your connection ports, from RCA, Optical and more. You'll also notice the other port that is how you connect to the Left Speaker, though not with traditional speaker wire, so should you ever need a replacement, it'll be a little more costly and challenging to do so.

While I used the optical connection from my Xbox One into the R1850DB set, there are more options available depending on your use, even including Bluetooth 4.0. I have to say, I was quite impressed with how easy it was to not only pair my phone with the speakers, but how crystal clear it sounded, even from the other end of my apartment. Not once did it sound choppy or imperfect.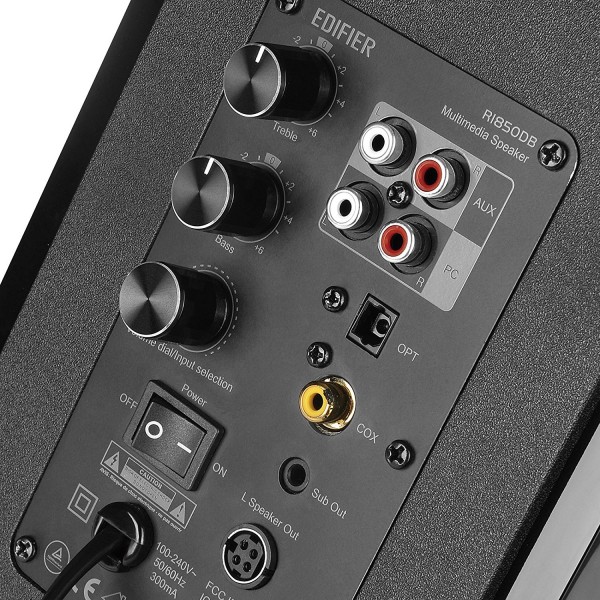 Now, some might be wondering why you would invest in a 2.0 setup that doesn't include a subwoofer; myself included. With that being said, the bass that these speakers can produce, even without a dedicated subwoofer, was quite surprising. Sure, it's not going to shake or vibrate the floor, but explosions and gunfire did have some 'oomph' to them. Given that this is only a 2.0 setup, obviously the price is a little lower, which is a bonus, but Edifier was clever, including the option to add a subwoofer, of your choice, down the road should you wish. Yes, there is a sub-out jack included, so if you've got a kick ass sub already and want to add it to these speakers, doing so is easy, instantly making it a 2.1 system.

My biggest issue I had with the previous S350DB set was its remote that was shaped like a puck. It was interesting to see a different design, but it wasn't user friendly in any way. It too seems they have listened to feedback as they have now included a 'normal' remote this time with the R1850DB's. This little, and I mean little, remote is where you can alter the volume (obviously), utilize track controls (via Bluetooth), but also quickly change inputs if needed. The remote is your standard rectangle, but it's quite small and feels VERY 'plasticy' and cheap. The buttons need to be pressed in for them to register as well, and while the remote itself doesn't alter my final thoughts on the set, this is the one feature that Edifier is 0 out of 2 for me so far.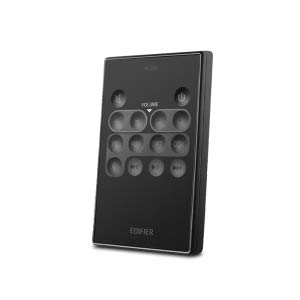 Using a remote is going to be the preferred way to alter volume, as no one wants to get up and play with the knobs on the back of the speaker. Just keep in mind you need to aim the remote at the right speaker, so make sure it's in an accessible spot that you won't have to hassle with. Also, I really wish that there were included EQ presets, specifically for movies, games and music.

So how do the R1850DB's sound? Well, just like my thoughts about the S350DB's, audio simply sounds crystal clear. Mids and highs sounded very balancedr, and even though there's no dedicated sub, they provide just enough of a boom without the vibration. Without trying to get evicted and upsetting the neighbors, I turned up the speakers as high as I was comfortable with, and heard absolutely no distortion, crackling or popping.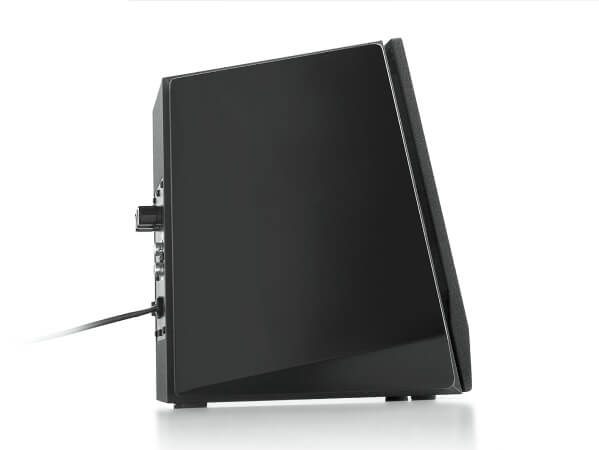 Whenever I get new audio equipment I always start to test them out with some music. I gather a range from nearly every genre; Rock, Hip Hop, Classical, EDM and much more. Given how far apart the two speakers were, they were able to easily 'fill' the room with their sound stage. The music sounded fantastic, and I was able to hear individual strings, lyrics, drum hits and more in perfect clarity. Movies had the same result, with dialogue being very clear and distinct, while the action explosions sound impactful (for not having a dedicated sub). Highs and mids sounded balanced, and while I had the bass on around the 70% marker, obviously having a dedicated sub is going to only add to the sound profile.

The vast majority of my TV use time is obviously with my Xbox One and gaming. I don't even want to mention the hours a week I put into it (Editors Note: He is not kidding, it's a lot), but let's just say I know my gaming. Obviously with so much gaming to do, I need the right audio. While I may use a headset at night, so I don't disturb the sleeping wife and kid, during the day I get to use the speakers, and I'm glad I've been able to play with these R1850DB's over the past few weeks. Gaming is very special for its audio, if you don't hear someone coming up behind you in a shooter, you're going to get killed quickly. While you won't get true surround with a simple 2.0 setup, I was still quite impressed with how great audio performed with two simple satellites. Dialogue in Assassin's Creed Odyssey sounded very clear and engines and burnouts in Forza Horizon 4 sounded powerful and distinct.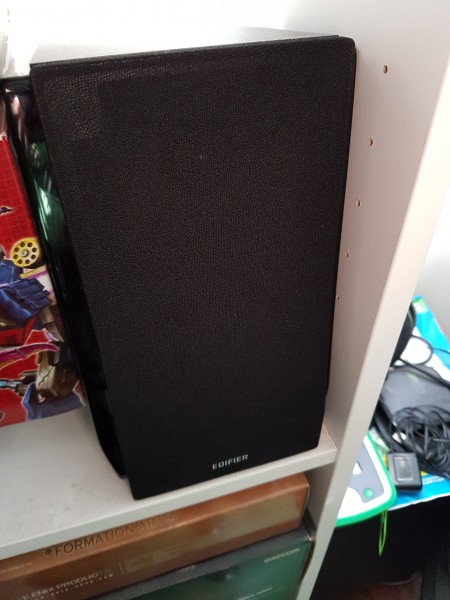 I have to admit, I didn't think that I would be as impressed with a 2.0 setup without a sub, but I came away quite impressed with it. For the size of the drivers, the mid-range audio is extremely clear and free of any distortion at any volume level. My only real complaint is the cheap remote, and while that doesn't affect the sound profile in any way, I hope this gets another redesign in the next series. The speakers look and sound so impressive, then you're simply given this cheap small remote to utilize them with.

If you're looking for a new bookshelf speaker set on a budget, seriously take a look at the Edifier R1850DB's. The price point is great when compared to other offerings, and while it doesn't come with a sub, it does have the option to add one, ANY brand, down the road, and it's very simple to do, so it can grow with your needs. While I'm not the type of audiophile that would spend thousands of dollars on a speaker setup, any budget conscious person now has an option if their looking for great quality as well.



Overall: 9.2/ 10