NEWS - Thursday, March 27, 2014

Fulgore rejoins Killer Instinct April 9, Iron Galaxy is the new KI dev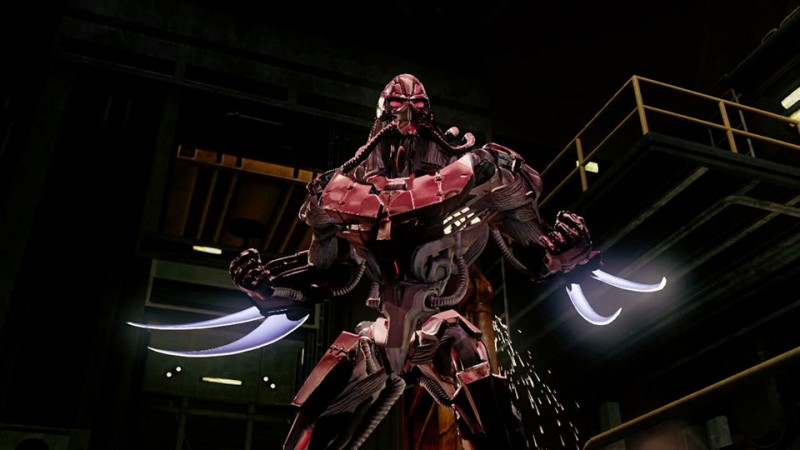 Following Amazon's acquisition of Killer Instinct developer Double Helix Games last month, publisher Microsoft Studios brought a new developer onto the title, one well-versed in fighting games: Iron Galaxy Studios. (Polygon) spoke with Dave Lang, CEO of Iron Galaxy, about a project he characterized as "probably the biggest thing we've ever done."
"This is an amazing opportunity to work on a game and a genre we are super passionate about," said Lang during a phone interview with Polygon last week. Iron Galaxy's fighting pedigree includes 2011's Street Fighter 3: 3rd Strike Online Edition and 2013's Divekick.
"Before we were ever talking about this, I was a fan of the game. And to get to now take it over and start with this great base, and expand it and put new stuff on top of it, everyone in the company is super pumped up, and we can't wait to show people what we're going to be doing down the road," Lang continued.
Double Helix is currently finishing up Killer Instinct's first season of content. That includes the season's eighth and final add-on character, the cyborg knight Fulgore, whom you can see in the new trailer below. Fulgore will be released on April 9 in a long-awaited title update that will also add Arcade Mode and online lobbies featuring eight-player rooms and spectating functionality.
While doing all of that, the company has been helping to bring Iron Galaxy up to speed on Killer Instinct, which runs on proprietary technology that Double Helix developed, the Hex engine. According to Lang, approximately 10 individuals from his studio flew out to Irvine, Calif.-based Double Helix earlier this month and spent a week there to familiarize themselves with the company's existing development tools and pipelines.
"This is a brand-new engine, this is a brand-new process, and we're just coming to terms with what's possible," Lang explained.
THE ONE THAT GOT AWAY
Iron Galaxy Studios was founded in Chicago in August 2008, and the company opened a second office in Orlando, Fla., in August 2012. Lang told Polygon that when Microsoft Studios was shopping around the Killer Instinct intellectual property a while back, Iron Galaxy pitched itself as a company that could take on the long-running fighting game franchise. But at the time, the studio was already working on its first original game, the Xbox Live Arcade title Wreckateer, and didn't have the team size to handle both projects simultaneously.
"I was always kind of bummed out about it," said Lang. "It's, like, the one that got away."
Then, about four months ago, he got a call from Microsoft. At that point, Lang wasn't aware of Amazon's plans to buy Double Helix, so Microsoft filled him in, explained that it was looking to transition Killer Instinct to a new developer and asked if he was still interested.
"I immediately jumped at it. There's nothing we were going to not do to work on it next," said Lang.
At the same time, Lang felt some trepidation about "[stepping] on another developer's toes." He wondered if the people at Double Helix would harbor some resentment toward the studio replacing them on a game they built from the ground up into a successful reboot of a long-dormant series. But Double Helix and Microsoft have had an "amicable parting of ways," said Lang, adding that the studio has been "really good at handing off stuff to us and giving us a push."
"It's been a privilege to work with our partners at Microsoft to help bring back Killer Instinct. Throughout production, we've been inspired by players and fans to make KI the best it can be. Now, we're excited to join that community, eager to see what the talented team at Iron Galaxy turns loose for season 2," said a Double Helix representative in a statement to Polygon.
WHAT'S NEXT?
Lang declined to speak with any specificity about the future plans that Microsoft and Iron Galaxy have for Killer Instinct. But he did confirm that his studio won't be turning the game — which was received well, perhaps surprisingly, upon its release as an Xbox One-exclusive launch title — into something completely different. He noted that Iron Galaxy likely wouldn't have signed on if the people at the studio weren't already big fans of what Double Helix accomplished. The way he sees it, the studio "destroyed" its two main goals: to make a "tournament-credible" fighting game and make it accessible at the same time.

"If we were going to work on this game and go, 'Oh, we want to change everything,' if we were in that position, it'd be a mess. I'm not sure if we would have taken the gig," said Lang. "What they have is not [broken]. What they have is amazing, and it's good, and we just want to layer new stuff on top of that that keeps the pace intact."

Since its inception in 2008, Iron Galaxy has made a name for itself largely by pitching in on other studios' projects, often by providing consulting for specific implementations of technology such as Unreal Engine 3 on PlayStation 3. The developers there also have a lot of experience working on fighting games, including the Online Edition of Street Fighter 3 3rd Strike: Fight for the Future, 2012's Marvel vs. Capcom Origins, 2013's Darkstalkers Resurrection and Divekick, which was the studio's second original project.

Lang told Polygon that Microsoft Studios has built "a big internal team" to supportKiller Instinct and that he's been really happy with the publisher's approach, because the people there understand Iron Galaxy's strengths and are letting the studio do things its own way.

"The thing I like about working with Microsoft is, once they get what you're about, they don't try to make you do stuff you're not comfortable with," said Lang. "They could have [come] in and they could have been like, 'Listen, here's — we're going to do X, Y and Z because we know that works, blah, blah, blah.' They didn't do that at all, and, because of that, that makes the pressure of working on something this big, it makes it bearable."

Lang believes that Iron Galaxy's particular history — its experience as a tech-first studio and a team of fighting game fanatics — makes the company poised to succeed now with Killer Instinct, and Microsoft's hands-off attitude helps a lot.

"This is now a title with some prestige. This is, like, probably — I think it's probably the biggest thing we've ever done, like, the most important game we've ever worked on," said Lang. "I feel like, as a company, we've been doing a lot of really cool work to get to this point, and I think this is our chance to shine."


Source: http://www.polygon.com