Products to Consider if You're an Xbox Gamer & Want to Game on the Go
by Kirby Yablonski








When one thinks of the term "gaming on the go", one usually associates playing games on a portable device, like the Nintendo 3DS, Nintendo Switch, and various Apple or Android devices. The purpose of this article is to provide Xbox gamers with some of the ways to enjoy Xbox gaming on the go and highlight the ways in which you can still enjoy various forms of playing your library of games. We also want to highlight a few ways that you can also use the Xbox console experience when travelling or away from your home, should you desire. So, without further delay, let us get started.

Let's get to the obvious choice for Xbox gaming on the go: xCloud

Microsoft has leveraged the power of the cloud to provide gamers a chance to play away from the confines of their Xbox console. This service, called xCloud, is tied to Game Pass Ultimate subscription service ($16.99/month CDN). Once you subscribe, you have access to well over 100 games via a mobile device (e.g. tablet or phone). You should note that at this time xCloud is not on any iOS devices, but Microsoft is working to make this happen and a target window is sometime in 2021.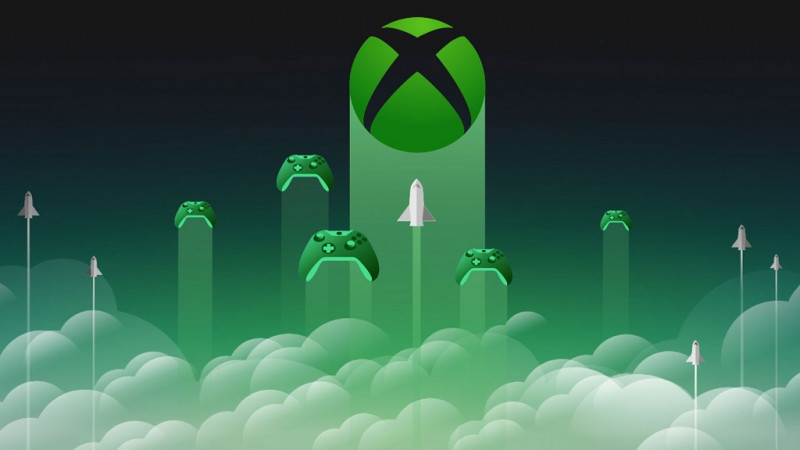 Microsoft has installed Xbox blades at various Azure locations around the globe. These blades are the inside of the Xbox, modified and housed in racks within the Azure hub. Basically, you are playing your games through the cloud on actual Xbox hardware. The service is great for those that want to play away from their home without carrying around their actual Xbox and all the associated accessories.

To enjoy Xbox gaming on a mobile device, there are a few ways to 'control' your experience. First, you will need an Xbox or Xbox compatible controller. Most of the newer first party Xbox controllers have Bluetooth built in, so you will be able to sync your controller with your mobile device. The input lag is minimal, and you will get a decent gaming experience out of it.

Microsoft has also enabled touch screen control, should you wish to just play on a device without any need for accessories. The touch control mimics a controller by placing virtual buttons and analog stick on a screen allowing you to control the on-screen action in this manner. While not perfect, it can work in a pinch depending on what game you want to play.

xCloud Accessories

Besides a controller, you may ask what else you will need for your xCloud experience? Below are some excellent choices:

- PowerA MOGA Mobile Gaming Clip (MSRP - $19.99 CDN)

For those that are going to use their own controller, this gaming accessory is very useful.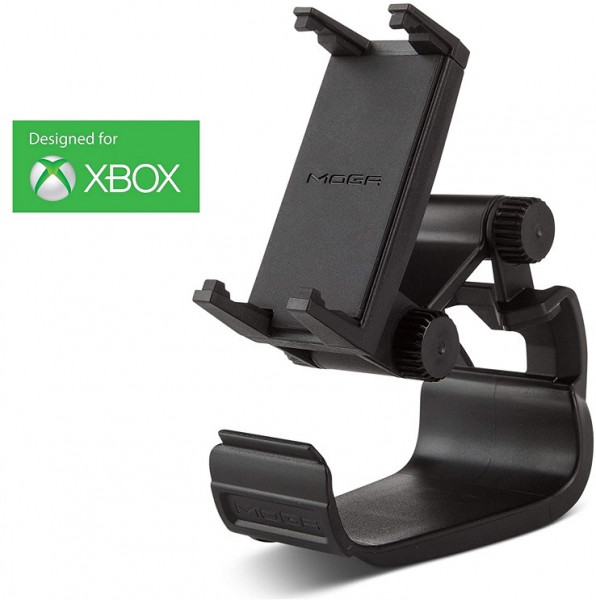 The MOGA mobile Gaming clip simply attaches to a controller which allows you to attach a mobile phone to it to play. Now I will not lie, this combination of a controller and a phone can be heavy, but it is a good option that allows you to use an Xbox controller of your own choosing and your own mobile phone as your screen.

- Razer Kishi Xbox Edition (MSRP - $129.99 CDN)

This compact and portable controller allows you to literally plug your phone to it, resulting in your phone and the Kishi looking very "Nintendo Switch-like". Razer has released an Android centric version, but this Xbox Edition of the peripheral was made with xCloud in mind, so there is an Xbox Home button while the buttons on the face mimic the colour and placement of an Xbox controller (A,B,X,Y). It also features the left and right bumper buttons as well as the left and right triggers.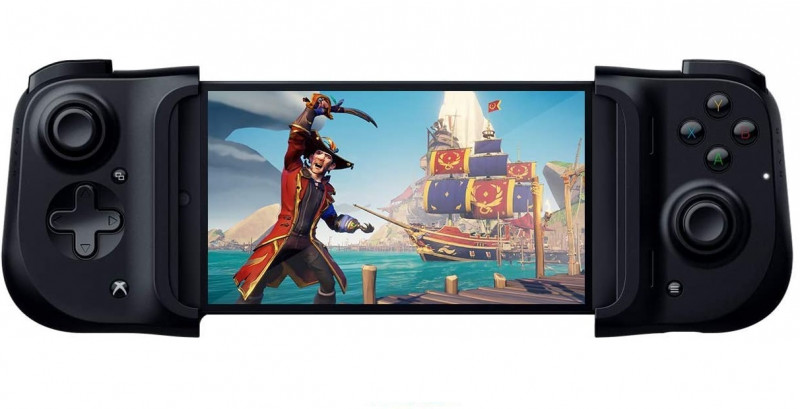 I have been playing with the Razer Kishi on my One Plus7T for a while now. One of the main advantages, in my opinion, is that your phone plugs directly into the Kishi and the input lag is minimal, if any at all. It is a very compact controller, as when not in use you simply take out your phone and put the two sides of the Kishi together to form a nice portable unit. I do find the analog sticks somewhat small; however, they are easy to adjust and it will take some time playing games and adapting to them. I would have to say that by using the Razer Kishi with your phone, and a good pair of headphones, that this is the closest you will be to getting a handheld Xbox console.

We have been talking about the playing Xbox games using Microsoft's xCloud; however, there are people that still want a pure console experience, and for those on the go this can still be an option.

GAEMS PGE (Personal Gaming Environment)

What is GAEMS PGE you ask?

GAEMS designs and produces what they call Personal Gaming Environments (PGE for short). Their journey began in 2010 when one of the founders had an idea that solved his problem with gaming on the go using a home console. They modified an off-the-shelf "Pelican" style case with a 15-inch monitor and used an Xbox 360 to play games on it. In 2011, they released their first retail product, the GAEMS G155 that they renamed the Sentry in 2012. It was a custom designed portable case with a 15.5-inch monitor, built in speakers, and space to put the console of your choice. Since then GAEMS has released many different products including different sized portable gaming units, standalone monitors as well as accessories including monitor stands and console controller charging units.

With that history lesson behind us, here are three of their products that warrant a discussion:

- GAEMS Guardian - Pro XP (MSRP - $899 CDN)

The Guardian is what I would consider the Cadillac of GAEMS products. It is a large case (24 lbs. without a console) as it houses a 24-inch WQHD (1440p) monitor along with speakers, a media hub, and space to hold all your cables, power supply, controller, and of course the Xbox One (all versions) or the Xbox Series S. Unfortunately, due to the physical form of the Series X, it will not fit inside of the case. This unit is heavy, but it is still portable given it can carried like a suitcase with all of the contents neatly and safely tucked inside.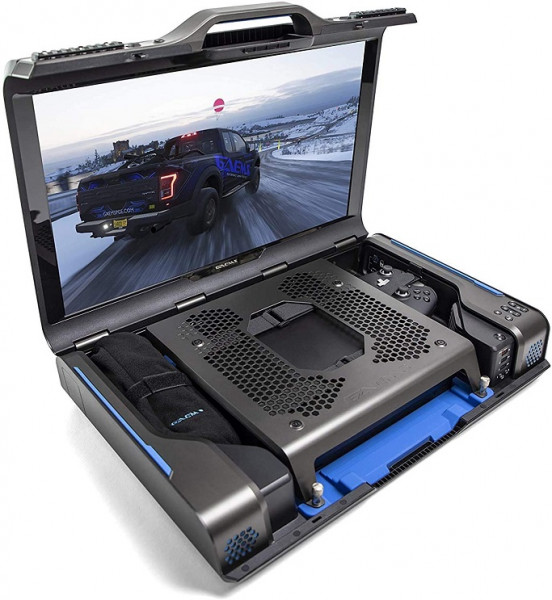 I currently have a Guardian with an Xbox Series S connected to it. The sound and picture are very good. You will notice a fair amount of bass and a great overall tonal balance for whatever game you play, from triple A titles to the smallest of Indie developed games. The 24-inch screen is bright and vibrant, and you will not notice any ghosting or artifacts. However, the screen is not HDR compatible, as that would add cost to an already pricey item.

The Guardian is not particularly designed for everyone, as even GAEMS states that they made this unit with content creators in mind. However, that does not leave other gamers out. The hardcore and/or tech-savvy gamers out there may want to look at this option given all the technology and goods inside.

- GAEMS Sentinel (MSRP: $449.99 CDN)

The Sentinel is what I would classify as the mid-level PGE from GAEMS. I am also of the opinion that it is the more portable case (with monitor) from GAEMS, given its size and weight. It is only 13 pounds and is 43cm x 10cm x 42.4cm (L x D x W). It utilizes a 17.3 FHD (1080p) screen. Like all the other PGEs, you cannot fit an Xbox Series X in it, but it will fit an Xbox One S, Xbox One X and the new Xbox Series S. Your power and A/V connections are housed below the screen and it is easy to hook up an Xbox to it. GAEMS provides an accessory bag with the Sentinel, as given it is one of the smaller units to carry around; you will need to carry your cables and Xbox accessories in a separate, but small bag.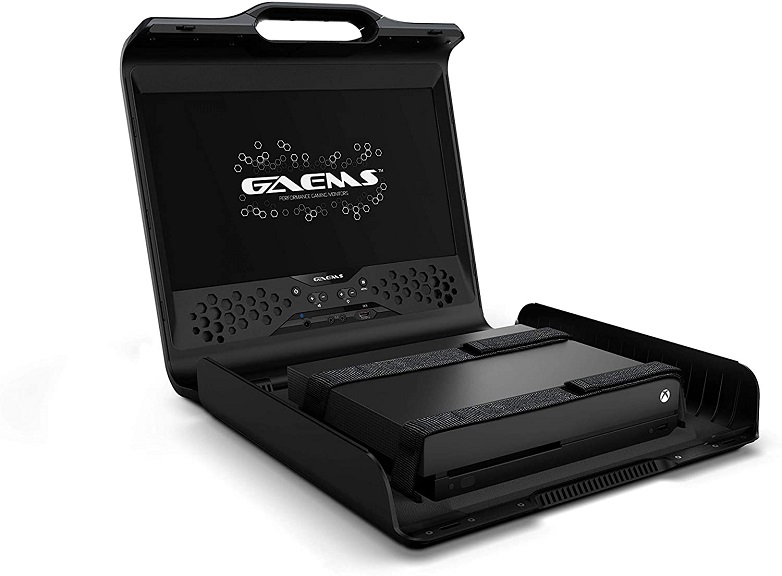 Although the 17.3 inch screen size sounds small, you will most likely be sitting quite near the screen. If you are like me and travel a lot (pre-pandemic), that means you will be playing your Xbox in a hotel or at a friend's house. The monitor is bright and you will find that 1080p is more than able given the size. The Xbox One X and the Xbox Series S have the ability to super sample too, so the power of both these consoles will still be evident when using the Sentinel.

The speakers are inside the top lid right below the screen, and although they are quite thin, they still put out some decent audio. Sure, you will not have the deep bass of actual standalone speakers, but they do an admirable job. I have never had an issue with the sound, and you will even find some directionality (left and right) when playing. If the speakers are not enough for you, you can always use a set of headphones should you wish.

- GAEMS M155 Performance Gaming Monitor (MSRP: $249.99 CDN)

The M115 is a great solution if you are not looking for a case with monitor and speakers built in. It is a standalone 15.5-inch FHD (1080p) E-LED monitor, weighing in at 2 lbs. which can stand on its own with rubber feet on the back that you can simply pop out. It accepts the HDMI output from the Xbox console and is powered by a single USB plug that you can insert into a USB port on the Xbox.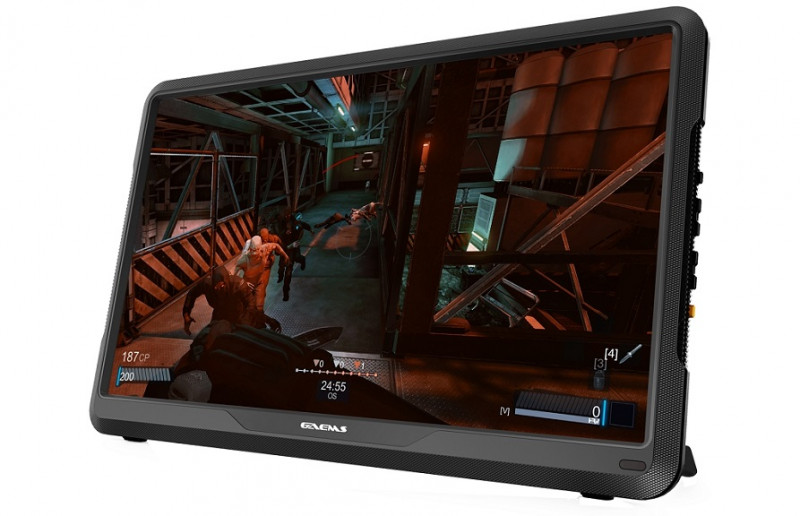 One of the main reasons that I am including the M155 in this article is that the first two solutions cannot utilize the Xbox Series X due to its physical form factor. Given that the M155 is just a monitor, you can feel free to put it and your Xbox Series X (or any Xbox should you wish) into a backpack or carrying bag of your own and take it all on the road with you.

Given the small size, you will have to sit relatively close to it, similar to when you work on a laptop that is not connected to a full size PC monitor. However, given that it is FHD, this should not be a problem. The M155 does have a single speaker should you wish to use it; however, you will most likely want to use a pair of headphones to get a much better audio experience. Sure, the single speaker will work in a 'pinch', but a good set of headphones will provide a much better sound stage and a better audio experience overall.

If you feel the need take my console on the road, but want to pack minimal stuff, pairing the M155 with the Xbox Series S is a good match. As both are VERY small and light and they won't take up much space in your backpack. Along with a controller and headset, you are good to go for marathon gaming sessions almost anywhere along your travel route or when you reach your final destination.

Headsets

Not everyone wants to utilize actual speakers when playing on the go, so we thought we should recommend a few headsets that might suit your gaming needs.

- Razer Kaira Pro (MSRP: $199.99 CDN)

I recently reviewed this headset. They are touted by Razer to be a great headset for the Xbox gamer on the go, and I 100% agree with them. They are completely wireless as they synchronize with the actual console. They are quite light, have 50mm drivers in the earcups, and they go over the ear. The foam that surrounds the earcup is mesh fabric and quite breathable. This keeps your ears cool while also allowing you to hear what is going on outside of the headset. Battery life is estimated at 20 hours with the earcup lighting off, but during my time with them, they seemed to last even longer than that.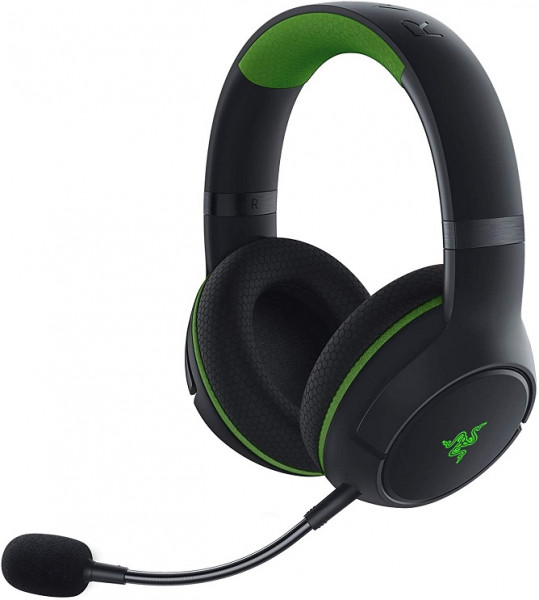 The Kaira Pro is also Bluetooth 5.0 compatible, which allows you to connect it to most mobile devices. For any Xbox gamer with an Android mobile device, this is another advantage as you can play Xbox games on an Android device using xCloud, a service that I addressed at the start of this article. The Kaira Pro is great headset to do this with as it is light, easy on the eyes, and has good sound. Being able to go from your console to playing on your Android device without missing a beat is pretty darn convenient.

- Turtle Beach Stealth 700 Gen. 2 (MSRP: $199.99 CDN)

As summer was coming to an end, Turtle Beach released a Gen. 2 version of two of their more popular headsets for consoles, the Stealth 600 and Stealth 700. As with many headsets released lately, it connects directly to your Xbox console. The reason for recommending the more expensive Stealth 700 Gen. 2 for those Xbox gamers on the go is that it adds Bluetooth into the mix. Not only can you use these with your console, but you can connect it to a mobile device to control many of headset's settings (e.g. chat mix, equalizer, and more) with an app, and play games on the go via xCloud.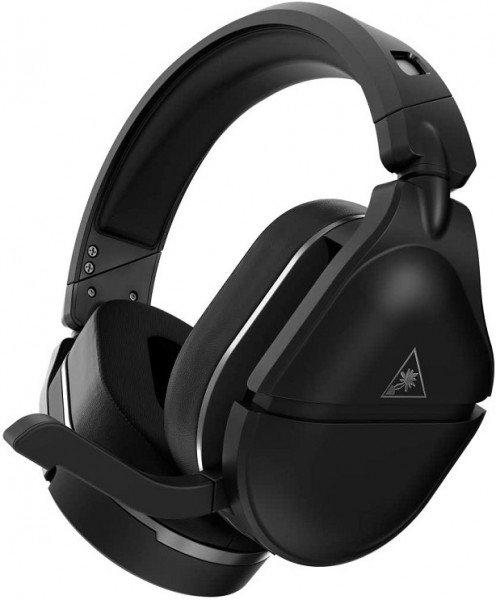 For me personally, this is one of my favorite headsets to use when I want to get away from the world of outside noise when playing a game. The detail in audio is very solid and balanced while the directionality, using Xbox's Window's Sonic mode, is noticeable. It handles every note and tone thrown at it with ease, be it music, voice work or sound effects.

Another great feature is that the earcup's memory foam has a layer of Aerofit cooling gel. They do stay cooler than other headphones that I have used. The memory foam is wrapped in synthetic leather that helps keep the outside noise out, but it is not perfect as they are not noise cancelling headphones. Finally, battery life is rated at 20 hours and I have found that the estimate is accurate given how many times I recharge them over a week or two of use.

- SteelSeries Arctis 1 Wireless for Xbox (MSRP: $119.99 CDN)

If you are looking for a wireless headset to play with your Xbox console on the go, but do not care about Bluetooth, then the Arctis 1 Wireless for Xbox from SteelSeries seems to be a good option. At the time of writing this article, SteelSeries' website shows this headset as "Sold Out" and you can be notified when they are available. There is a very good reason that I am recommending these though.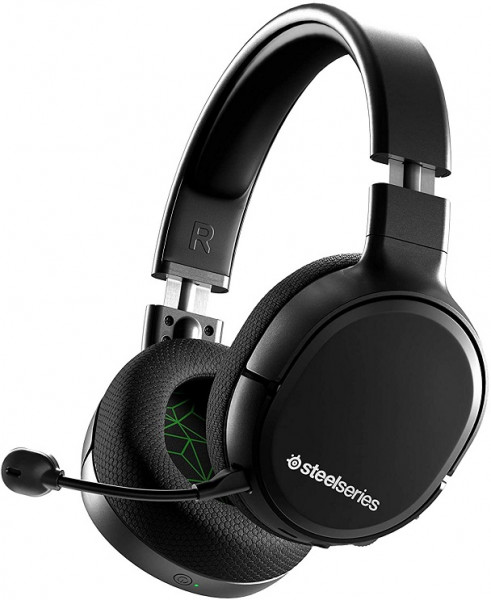 The Arctis 1 Wireless for the Xbox have the same speakers that are in their high end Arctis 9X. I reviewed the 9X quite some time ago, and I was impressed by the sound and clarity of the speakers. Knowing that the same speakers are in the Arctis 1, I have to think that they are going to sound just as good.

This headset does not connect directly to the Xbox console, as it comes with a small adapter, which plugs into one of the USB ports on the console. I have used other headsets with dongles of this nature and found that they can reproduce good quality sound their own proprietary solution for wireless use.

In terms of other headsets that are more affordable, you can find those that connect to the Xbox controller for audio, so you are not 100% wire free. There are a huge amount of headsets of this nature, from an Xbox first party headset to those from Turtle Beach, Astro, Steelseries, LucidSound, PDP, PowerA and more. I did not focus on any specific wired headset in this article given that I was looking to provide gamers on the go with a more 'cord-free' experience.

Carrying Cases/Backpacks

We have provided a lot of information so far; however, if you want a complete console experience on the go, and you will need to be able to carry your console with you (screen or not). These are a few case options to do so.

- GAEMS Hex Pac Backpack (MSRP: $79.99 CDN)

This backpack can be found on most websites in Canada for the above-mentioned price (e.g. Best Buy, Amazon.ca, Walmart, etc.). It should be noted that this backpack can carry a console and a portable monitor, like the one we recommended (GAEMS M-155) or any other similar sized ones. It can accommodate the Xbox One, Xbox One S, Xbox One X, and the Xbox Series S. Unfortunately, it cannot carry the Series X, as it is too big.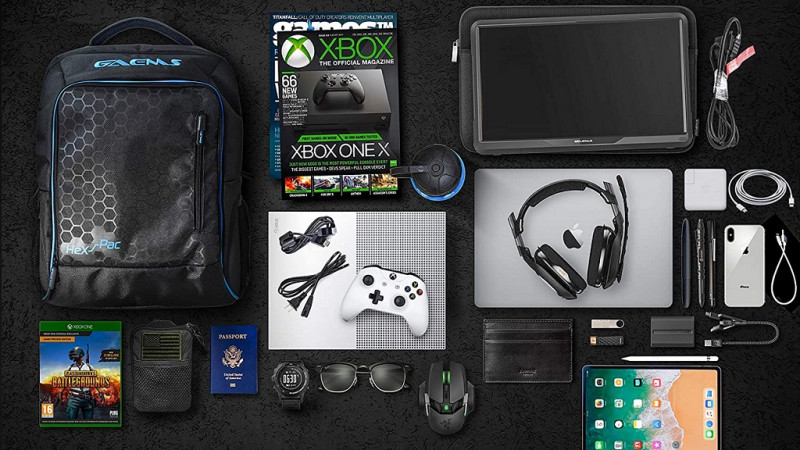 The backpack is made of nylon along with some padding to protect your contents. Along with the ability to carry an Xbox console and a monitor, you can also carry cords, controller, and a headset (should you have one). There are also mesh side pockets to carry a water bottle which is a feature that is a nice touch. The backpack also has a hidden compartment to store your phone, identification, keys, and anything else you may want to carry.

One last quick note, should you be travelling through an airport with a carry-on sized suitcase, you can also attach this backpack to the sliding handle, allowing it to be transported with ease should you not want to wear it. For the price, it is not a bad gaming backpack and given that you can carry a portable monitor in it to makes it practical. If you do not have a portable monitor, do not sweat it though, as it still makes a great "console" carrying case as a whole.

- USA Gear S Series - S23 (MSRP: $89.99 USD)

I found this case on Amazon.com. As of writing, it is also on Amazon.ca, but there is not a price or a lot of information on it. After researching USA Gear's website, it seems like they are a photo camera oriented carrying bag/backpack focused company, but they do make this carrying case that can accommodate the Xbox Series X and Series S.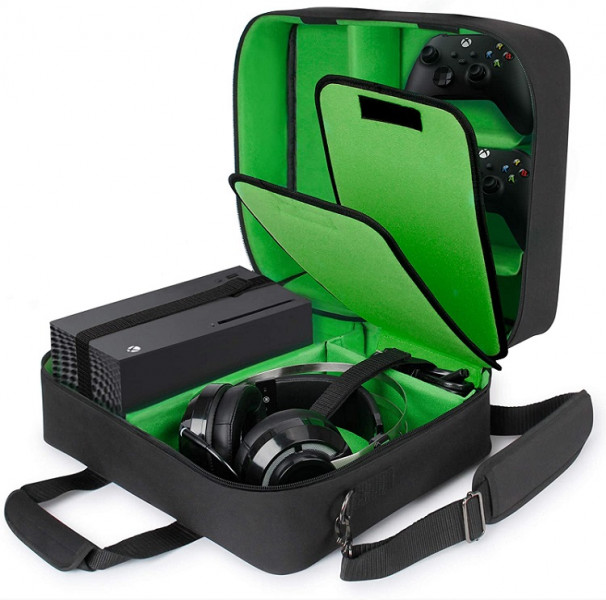 As you can tell from the image, there is lots of room for not only the console, but any accessories as well, such as a headset, controllers, games and cables. It is made of RipStop nylon and what they describe as a "semi-rigid construction" along with moisture resistant material that allows you to set it down on a damp or wet ground if outside. It looks nice too with the Xbox centric color scheme. The addition of both a suitcase style handle and a shoulder strap give an individual some options in carrying their Xbox Series X or Series S. I did a lot of searching for an Xbox Series X compatible case, and this is the only one that I could find that was not too expensive, relatively speaking, and seemed to cover the portability aspect quite well.

- Mobile Edge CORE Gaming Backpack (MSRP $129.99 USD)

Yes, this is a much more expensive backpack, but this also has a lot more features and quality than most. We actually reviewed this backpack and fellow Executive editor A. Dileva still uses it to this day whenever a need to transport any of our precious gaming gear arises. Not only will this fit all of your gear (except for the Xbox Series X of course) including controllers, headphones, portalble screens and snacks, but there's even a built in and pre-wired USB powerbank pocket to keep your devices charging on the go as you get from point A to point B.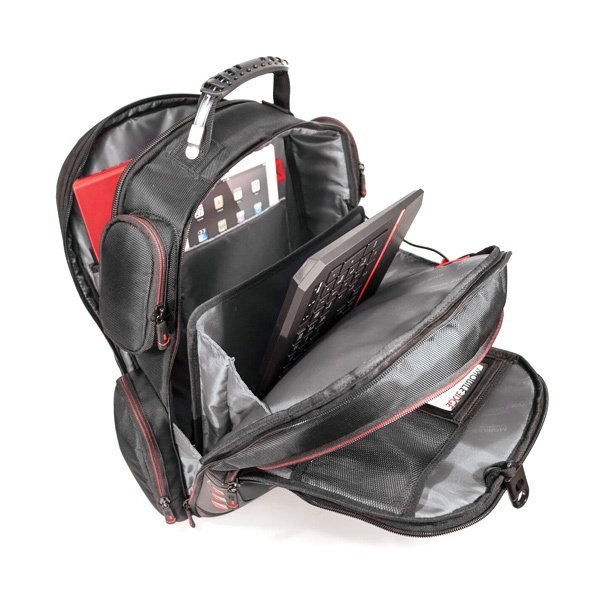 Not only will your devices fit, but they'll arive safely, plus it's comfortable to boot. You may be asking why we only recommended three carrying cases. A console specific carrying case and/or backpack is difficult to find, as most gaming backpacks target gamers who are using laptop computers. There are backpacks from Astro, Turtle Beach, Razer, SteelSeries and more that are considered gaming backpacks, but where the question lies is what consoles, if any, will fit? In this section, we wanted to focus on carrying cases/backpacks that allow for an experience geared for ALL Xbox platforms, including any for the Series X.

Final Thoughts

There will always options for people to consider when looking for products that will allow them to be an "Xbox Gamer on the Go". The point of this article is to provide many different solutions that allow anyone who wants to play Xbox games away from their house, from using the xCloud to taking one's console when travelling. If you have managed to read this to the end, thank you for taking the time to do so and we hope that you found this article useful.